ZIA Martial Arts
Presents
Zia Rumble Elimination Series (Submission Grappling)
When:
TBD
Where:
Blue Moon Bar and Grill
13060 N Valley Dr.
Las Cruces, NM 88007
Get Directions
Register to participate or purchase admission tickets below!
Zia Rumble
Participation Registration
Looking to participate in the Zia Rumble Blue Belt Bash? Register today to confirm your spot!
Zia Rumble
Admisison Tickets
Are you looking to attend the Zia Rumble Blue Belt Bash? Purchase your tickets today!
Sponsorship Opportunities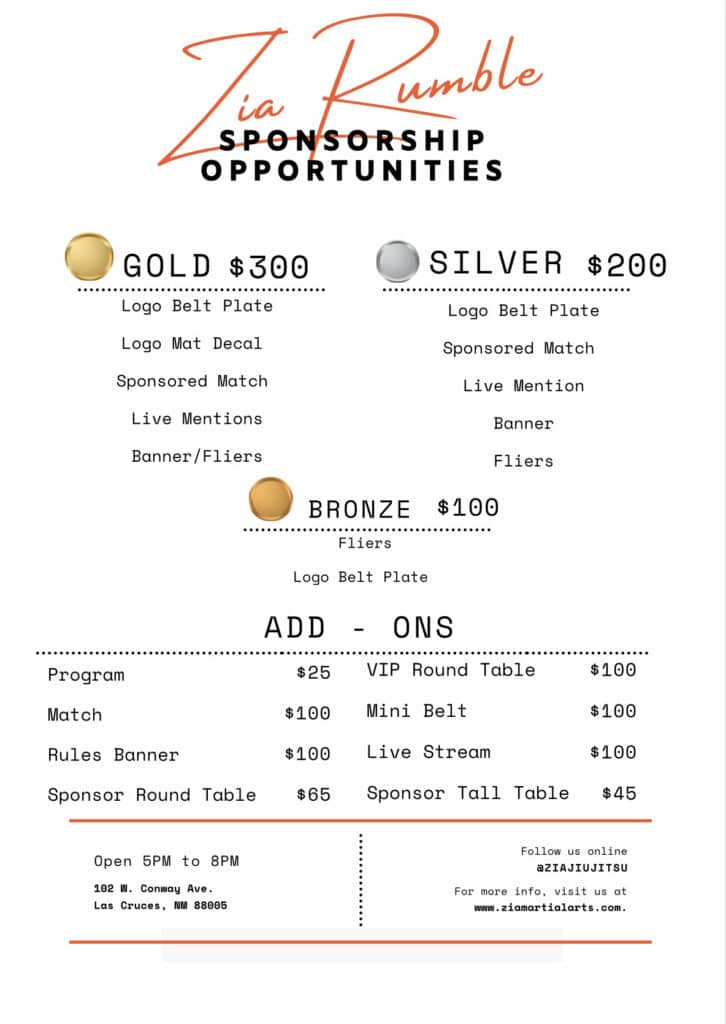 Ready to become a sponsor?
SUBMISSION GRAPPLING EVENT
The Zia Rumble is an exceptional grappling event that offers excitement and entertainment for people of all ages. Get ready for the much-anticipated return of the Rumble to Las Cruces, NM! The event will kick off with exhilarating competitions for children and teens, followed by the highly anticipated adult divisions. Whether you prefer to participate as an individual or as part of a team, join us in this thrilling NoGi submission ONLY event. Gather your loved ones and come experience the action-packed atmosphere suitable for the whole family!
AWARDS:
CHAMPIONSHIP BELTS
MEDALS
CASH PRIZES
IMPORTANT LINKS:
REGISTRATION
NORMAL REGISTRATION
Adult Division $50, Kid Division $25, Spectators are $10 each.
Children 6 and under are free. Tickets can be purchased at the door.
CREDIT POLICY
We understand that circumstances can change, and we want to provide flexibility to our competitors. You have the option to CANCEL your registration for the Zia Rumble and receive a full credit that can be applied towards any future ZIA event. This credit is available for any reason, no questions asked. To cancel, simply contact us via email or phone call by 12:00 PM on the Friday before the event. Please note that the credit remains valid for up to 1 year from the date of cancellation. While refunds are not provided, we believe this credit system offers you the opportunity to participate in a future ZIA event when it suits you best.
ASSISTANCE WITH REGISTRATION
If you encounter any technical difficulties while registering or setting up an account, or if you have any specific questions regarding the tournament such as location, times, skill levels, and more, please do not hesitate to reach out to us. Our dedicated team is here to assist you. For prompt assistance, kindly send us an email at ziamartialarts@gmail.com or give us a call at (575) 449-4120, and we will be happy to help resolve any concerns you may have.
EVENT INFORMATION
SATURDAY CHECK-IN 
To ensure a smooth and timely event, all CHILDREN, TEEN, & ADULT competitors must complete the check-in process one hour before their scheduled start time. You can find the specific start times for each division when the brackets are released on Friday evening.
Please note that competitors who arrive after the designated check-in times will regrettably be unable to participate in the competition. However, in the event of such circumstances, we will provide a credit that can be applied towards any future ZIA event. This credit will remain valid for up to one year from the date of the original event. We apologize, but refunds cannot be issued.
We kindly request all participants to adhere to the check-in deadline to ensure a fair and efficient tournament experience for all involved.
COACHING AREA
For Super Fights ZIA allows 1 coach for each competitor and 1 other family member or friend to shoot video or take photographs. Please note, no one else is allowed around the mats during the matches.
CHAMPIONSHIP BELTS MEDALS AND CASH PRIZES
 Zia awards championship belts for all Rumble winners.
Tag Team tournament champions will each receive a belt (2 total)
Super Fight winners receive a cash prize of 2X their entry fee. If participants enter into *Sudden Death Overtime and the match results in a DRAW – No Cash Prize will be paid.
EVENT MEDIC
The safety and well-being of our participants and attendees are of utmost importance to us. To ensure the highest level of care, all ZIA events have a dedicated and trained professional medic present on-site. The medic will be readily visible and easily accessible to all in attendance. Their presence ensures immediate medical assistance and support in case of any injuries or health-related concerns that may arise during the event. We prioritize the health and safety of everyone involved and strive to provide a secure environment for a memorable and worry-free experience.
JOIN OUR TEAM
We greatly value the contribution and dedication of our staff members in supporting our expanding needs. If you have an interest in joining our team as a referee, ring coordinator, security personnel, weigh-in assistant, awards staff, or photographer, we invite you to reach out to us at ziamartialarts@gmail.com. Kindly specify the position you are interested in within your email.
Please note that if you choose to work at an event, you will not be eligible to compete in any capacity during that specific event. We appreciate your understanding as this policy ensures fairness and impartiality in the competition.
We look forward to hearing from potential candidates who are passionate about martial arts and are enthusiastic about contributing to the success of our events.
MATCH TYPES
THE ZIA RUMBLE
ZIA ORIGINAL EVENT
The Rumble is a submission only, elimination style, every person for themselves, No-Gi match 10-20 participants, entry order is random.
Two (2) participants will start a match. Once a match has begun between the two participants, it must continue until one person achieves a submission. Each match will have a 5-minute time limit. If time expires, **Referees decision will determine who continues.
One (1) new participant will enter at 120 second intervals for adults (60 seconds for kids). If there is an odd number of competitors on the mat, this "Odd Person Out" remains on the mat and waits for either the next participant to enter or for a current match to end.
When a match ends, participants have no more than 15 seconds to engage with the next available person. A new 5-minute time limit will begin for each new match.
The Rumble ends when only one (1) participant remains.
TEAM ELIMINATION RULES
The Tag Rule
The Tag Rule is that only one participant from each team can be legally on the mat at any given time. To make a legal tag, the participant outside the mat must touch their partner's hand, allowing them to switch places. The tagged-in partner then becomes the legal participant, while the previously legal participant must exit the mat. This ensures a fair and competitive match between the teams.
Direct tags must be made above the waist by either team member.
Indirect tags are when a team member taps to a submission requiring the standby team member to enter.
Once a tag is made, both participants in the match MUST IMMEDIATELY disengage.
NO DOUBLE TEAMS ALLOWED
Any draws will go into *First Takedown
THE ELIMINATION RULE
Each team typically starts with a set number of participants. A submission eliminates that team member, and once a participant is eliminated, they must leave the mat and return to the coaching area.
The match continues until all members of a team have been eliminated. Draws will be decided by first takedown overtime. The last remaining team is declared the winner.
*IF TIME LIMIT expires, the team with the most remaining members will be declared the winner.
| | |
| --- | --- |
| | Regulation Time |
| Tag Teams | 8 Minutes |
| Handicap Teams | 8 Minutes |
| 3 vs 3 | 15 Minutes |
Overall, the team elimination rules create an exciting and suspenseful dynamic, as teams strategize to eliminate their opponents while protecting their own members.
HANDICAP MATCHES
Odd Numbered Match
Ex: 1 Versus 2, 2 Versus 3, Etc.
Any draws will go into First Takedown Overtime.
| | |
| --- | --- |
| Team Size | Weight Limit |
| 2 People | 360 Lbs. |
| 3 People | 540 Lbs. |
| 4 People | 720 Lbs. |
| 5 People | 900 Lbs. |
LADDER MATCH
The Ladder Match is an exciting and unique competition format that showcases a competitor's versatility and skill against opponents of varying ranks. In this match, one participant takes on a series of matches against representatives from each rank.
The competitor has the option to start either with the lowest rank and progressively work their way up to the highest or begin with the highest rank and face opponents of decreasing rank. This dynamic format presents an intriguing challenge, as it requires adaptability and strategic decision-making.
If time expires the round will go to a 90 second first takedown overtime. If the participant loses or draws in any round they are eliminated, and the match is over.
SUPER FIGHTS
All Super Fight winners will receive 2X their entry fee as a cash prize.
1 on 1 Submission Only match
First Takedown Overtime
| | | | |
| --- | --- | --- | --- |
| Kids & Teens | Regulation Time | Adults | Regulation Time |
| Novice | 3 Minutes | White Belt | 5 Minutes |
| Beginner | 3 Minutes | Blue Belt | 6 Minutes |
| Advanced | 4 Minutes | Purple Belt | 7 Minutes |
| | | Brown Belt | 8 Minutes |
| | | Black Belt | 10 Minutes |
FIRST TAKEDOWN OVERTIME
First takedown means bringing your opponent from a standing position to a ground position while maintaining control for a minimum of 3 seconds. The takedown must end on the mat or participants will be reset standing.
RULES
Summary of ZIA No-Gi Submission Grappling Rules
Welcome to the ZIA No-Gi submission grappling rules summary. This document provides important information regarding illegal techniques and safety-related issues to ensure a fair and safe competition. Please familiarize yourself with the following guidelines:
1. Objective: The objective of No-Gi submission grappling is to attain victory by achieving a submission hold that forces the opponent to tap out.
2. Illegal Techniques: The following techniques are strictly prohibited and may result in  disqualification:
ILLEGAL TECHNIQUES
Novice – Kids Division
NO Submissions Allowed
Beginner – Kids, Teens, & Adult Divisions
NO Slamming, Spiking, Scissor Takedown, Jumping Guard
NO Ezekiel Choke, Wrist Locks, "Electric Chair"
NO Bicep & Calf Compressions, Body Compressions
NO "Boston Crab" & "Bear Crawl" style guard passes
NO Squeezing Windpipe with hand(s)
ALL Spine Locks are illegal
ALL Twisting or Reaping Forms of Ankle & Leg Locks are illegal
ALL forms of Neck Cranks are illegal
Advanced – Adult Division
NO Slamming, Spiking, Scissor Takedown, Jumping Guard
**Notes**
ALL chokes require an opponent's arm inside the choke except:
Guillotines, Rear Naked Chokes, Forearm Chokes and Gogoplatas.
NO Strikes (including but not limited to: palm strikes, knee strikes, kicks, etc.)
Pulling back fingers or toes and squeezing windpipe with hand(s) ARE ILLEGAL TECHNIQUES for ALL Novice, Beginner, Intermediate and Expert participants.
3. Safety Precautions: The safety of all participants is paramount. The following safety guidelines must be adhered to:
a. Competitors must respect their opponent's tap and immediately release the hold.
b. Competitors must exercise control to prevent unnecessary injury to their opponent.
c. If a referee determines that a competitor is in danger of injury or unconsciousness, they have the authority to stop the match.
4. Weight Classes and Divisions: Competitors will be grouped into weight classes and skill-based divisions to ensure fair competition. Except for absolute divisions.
5. Equipment: No-Gi grappling is performed without the use of a traditional martial arts uniform (gi). Competitors are typically required to wear grappling shorts or spandex-type shorts and rash guards.
6. Judges Decision: Are based on submission holds, positional dominance, and successful techniques.
We wish you the best of luck in your ZIA No-Gi submission grappling endeavors and encourage you to compete with sportsmanship and respect for your fellow competitors.
DISQUALIFICATIONS
Any person using an illegal technique or ignoring the referee orders is subject to a disqualification.
A referee can immediately disqualify a participant for violation of any of these rules.
SANDBAGGING
NO SANDBAGGING!
Challenge yourself! Do not fight down a skill level.
When sandbagging is evident, the referee will stop the match and move the competitor to an appropriate skill level.
At registration, ZIA checks records from past grappling events to help catch sandbagging before the competitor gets on the mat.
ZIA reserves the right to remove a competitor from the results post-tournament if it is deemed, they were sandbagging.
SAFETY
Our number one goal at ZIA is SAFETY.
Referees reserve the right to stop a match at any time he or she feels injury is imminent. Any interference from a coach or spectator during a match may result in disqualification of that competitor. Professional behavior is required from all in attendance.
Register To Rumble